OU MULTICULTURAL GREEK COUNCIL DONATES BOOKS & SUPPLIES
The OU Multicultural Greek Council recently conducted a book and school supplies drive to benefit the Community After School Program. In total, their organization donated 31 books and a variety of much-needed school supplies including glue, pencils, markers, and paper. Several members of the group visited the CASP administrative office to drop off their donation on December 2, 2016. We are so thrilled and thankful to be the recipients of such a generous donation from this awesome organization. Thanks OU MGC!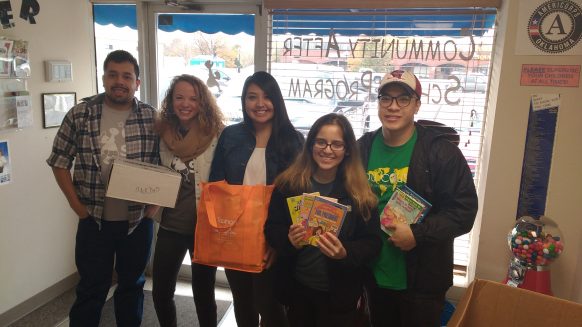 Pictured above are: CASP Be Smart Club AmeriCorps members Manny Herrera and Madeleine Stucky with University of Oklahoma Multicultural Greek Council members Isabel Gutierrez, Amanah Fatima, and Nhi Nai.