Get Involved!
CASP is a nonprofit that relies on donations and volunteers to assist in the operation of its programs. We invite you to check out our volunteer opportunities below and click on the "donate button" if you'd like to make a donation to the CASP Tutoring Program.
Volunteer Tutors Make the Difference at CASP!
CASP recently pivoted its services to focus on, and expand, its free tutoring program. CASP provides literacy tutoring to limited income families whose children are reading below grade level. Tutoring takes place at the CASP administrative offices as well as various partner locations. While this singular focus on tutoring is new, our program is in its fifth decade of providing services to our community.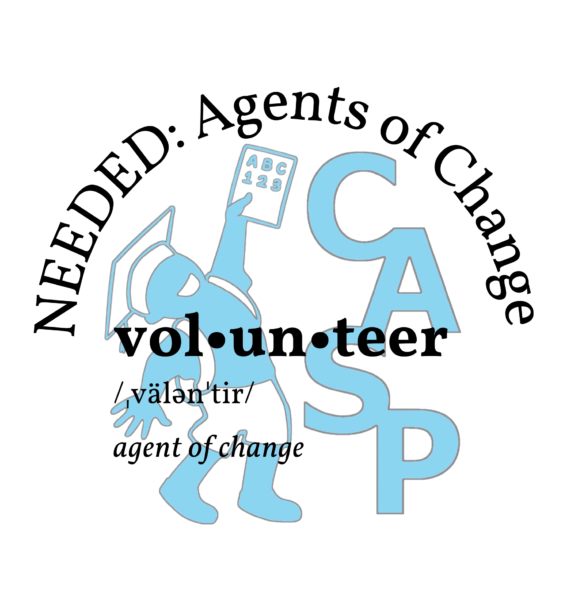 CASP tutoring positions are perfect for education majors, those who enjoy working with children, retired adults, high school students, Work Study award recipients, or anyone who wants an opportunity to give back to the community. Volunteer tutors are asked to commit to tutoring at least one hour twice each week between the hours of 3:00 pm and 6:00 p.m. for one semester. CASP provides training as well as the curriculum, resources, and teaching tools needed by tutors during their tutoring sessions. Tutors are matched with at-risk youth and serve as positive mentors while assisting students in strengthening their literacy skills. By guiding students through the curriculum, reading aloud, word work, and playing games, tutors provide positive guidance that teaches students how to problem solve, improve their study skills, and become successful readers.
If you are interested in becoming a CASP Tutor, please click on the link below. CASP will contact references and complete a preliminary background check. Individuals who meet these requirements will be interviewed, and if selected, will complete orientation to CASP policies and procedures before they begin their duties.
______________________________________________________________________________
How to Apply

:

We are always accepting new volunteers and appreciate your interest!

Interested individuals should complete and submit the online Volunteer Tutor Application. Before completing the application you will want to have the following information handy and ready for use:
Tutoring availability.
Three personal references, including mailing addresses, email addresses, and phone numbers.
We will be in touch with you as soon as we receive your application! For more information please call 405-366-5970 ext. 202 or email us at [email protected].