Community Childcare Partnership
Norman Public Schools, United Way, Community After School Program, The Cleveland County Family YMCA, CCFI, and various other community partners are pooling their resources to provide childcare in the event of a district-wide school closure beginning April 2, 2018. Enrollment space is limited and is open to all NPS Elementary Students on a very LIMITED, first-come, first-served basis. We STRONGLY encourage all parents to utilize friends and family to care for each other's children cooperatively as we anticipate the need being greater than the care we will have available. The number of children we will be able to serve is largely dependent on the availability of volunteers.
Currently, plans are in place to provide for one week of care (more days may be added, if needed)*.  All partners are currently donating their staff to provide care at no cost to our Norman families. However, we are requesting a donation of $3/day per student from our families to help cover the cost of supplies & snack.
WHEN:  April 2-6, 2018, 7:30 am – 5:30 pm daily (assumes school will be out all week)
WHO:  Open to all NPS Elementary Students Grades K-5 (first-come, first-served basis by grade level)
WHERE:  TBD
WHAT:  Fun-filled days of large and small group activities including board games, arts & crafts, science, indoor & outdoor play, and group projects!
Breakfast, lunch & snack will be provided.
COST:  FREE* (requesting a donation of $3/day per child for supplies & snack)
REGISTER:  Click HERE to enroll your NPS K-5th grade student (first-come, first-served basis by grade level).
* If the school closure exceeds one week, our partners may be required to assess a fee to continue providing care.
Please click HERE for more information about volunteering or enrolling your student.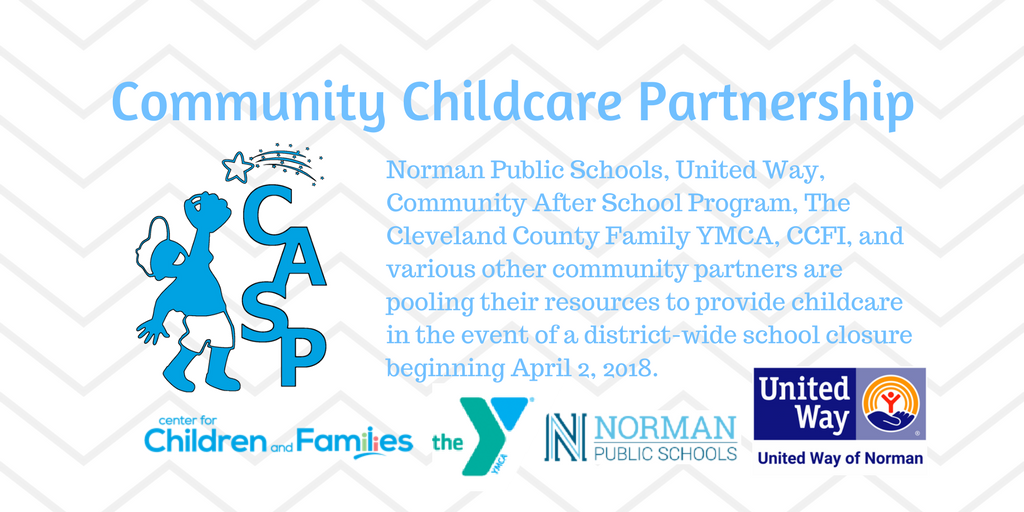 Safe Places for Middle Schoolers
The City of Norman is opening FREE safe spaces for students in grades 6-8. The Whittier, Irving and 12th Street Recreation Centers will be available for unsupervised open gym from 8 am – 5 pm, Monday – Friday. No registration is required for this service.